Latest Musing

Imagining a Post Pandemic World
How might a post-pandemic world look and feel? Let's imagine a creative team at a New York City advertising agency pitching a campaign in 2050 for a new perfume (more than most products, perfumes are sold by attaching to the dreams and aspirations of their times). The Big Apple, ...

continue
Latest Book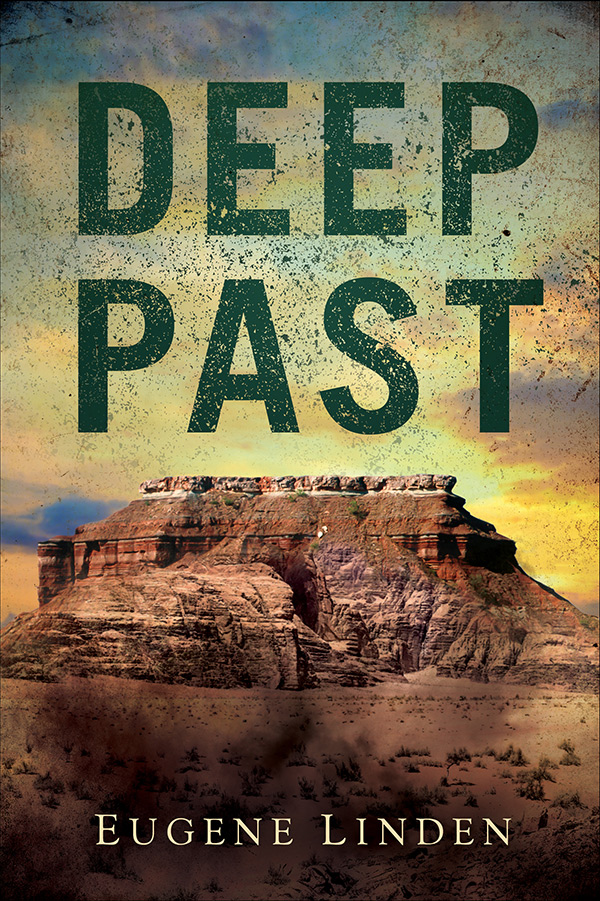 Deep Past
Buy from Amazon

more info
Articles by Category
endangered animals
rapid climate change
global deforestation
fragging

Books




Winds of Change
Buy from Amazon

more info
Afterword to the softbound edition.




The Octopus and the Orangutan
more info




The Future In Plain Sight
more info


The Parrot's Lament
more info


Silent Partners
more info


Affluence and Discontent
more info


The Alms Race
more info


Apes, Men, & Language
more info
HE WAS LOST AND NOW HE IS FOUND.
Friday September 15, 2006
HE WAS LOST AND NOW HE IS FOUND. On Saturday, August 12, we were having a family barbecue in Pelham New York, having just moved up from Washington, DC a week earlier. It was just my wife and our two kids and her brother, his wife and their twins. The evening was thoroughly pleasant. We'd let Murghatroyd, our 11 year-old Bengal, out of the house for the first time that day, and he was overjoyed. Murghy was an outdoor cat in the extreme, and he'd made our life a living hell while he was cooped up during the week as we tried to habituate him to the new surroundings. Now outside, he rolled luxuriantly in the grass and repeatedly showed up during dinner to hop on the lap of various guests, and play the role of host. Midway through the evening we heard a scuffle off in the bushes, and then the smell of skunk spray wafted our way. Murghy didn't return to the party, but we didn't think much of it. He was our smartest cat by far, and we trusted him (Lucy, another Bengal was definitely more suburban in her inclinations, and, after a Oliver Twist kittenhood, our two other adopted strays were never going to venture far from the food bowl). But then Murghy didn't show up the next day, the next, nor the next, and with each passing day, a pall deepened over the remainder of the summer and an ache took hold somewhere deep. I've always considered myself level headed about animals. Nothing is more elegant and interesting than the genius of evolution, and I have spent many years investigating evidence that the evolutionary forces that produced consciousness and other higher mental abilities in humans also produced those abilities in other species. But, I've always shied from some of the more radical ideas about alternative intelligences in other animals, e.g. the notion that cats communicate with us by planting images directly in our subconscious - "mind bombs" as one woman wrote when explaining how her cat had alerted her that the house was on fire. That is, I tended to discount these ideas until my wife and I began receiving missives very much like what the woman had described. While I've been accused of being apocalyptic in some of my writing, on a daily basis I tend to be optimistic. Mary, by contrast, likes to prepare herself for bad news. Our rented house in Pelham was not far off a golf course. I tried to take comfort when one of my neighbors described the course as "cat heaven," with vast troves of small animals for a cat to feast on. I envisioned Murghy's walkabout as something like a Tahitian vacation. Besides, Murghy had a collar with our phone number on it. There was always a chance that a Good Samaritan would give us a call. Mary spoke to another neighbor, however, who told of a surge of pet disappearances in the neighborhood, and mentioned rumors of a pet-killing coyote in the vicinity. We got a call about the body of a cat that someone had found near the golf course, and Mary reported that the much worked-over corpse bore some resemblance to Murghy. There was a resemblance, but I convinced myself that the color was a bit too light. We put up posters and followed up leads when people called in. Every time our hopes were dashed. In some ways news was worse than no news. One ostensibly sighting placed him near the deadly confluence of two parkways. Reconnoitering following one phone call revealed that a very cute kitten was making a go of it as a stray (her welfare was being monitored by solicitous neighbors), and we were never able to run down the sightings of a larger cat that fit Murghy's description. After about ten days, the dreams began. I had them, Mary had them, even the kids had them. They were intense and good dreams: Murghy coming home, Murghy curled up in my lap. Ever the optimist, I thought of them as postcards - Murghy was telling us that he was alright; the Tahitian vacation was going well. I tried to send return messages as well, helpfully beaming out an image the landmarks in our neighborhood. Overcoming her instinct to protect herself against bad news, Mary put a positive spin on the dreams as well: Murghy was telling us that he was alive. Still, at eleven Murghy was no spring chicken, and beyond the golf course lay a rough world if you were a lost cat. Moreover, there was always the chance he'd set off with some hare-brained plan to get back to DC. I was outwardly optimistic, but deep down I started preparing myself for life without Murghy. August turned into September, and although there were pleasant moments, at some level I was holding my breath as my subconscious tried to figure out how to resolve my feelings about Murghy, who played a far larger role in my thoughts than you might expect of an animal that weighed 10 pounds and slept most of the day. Mary and I replayed every heartbreaking missed opportunity. None was more anguished than the discovery on Sept. 10 of a message from just the Good Samaritan we had been hoping for. The woman caller said that she had encountered a very friendly cat on the grounds of a hospital and that he let her see his collar and read the phone number. The problem was that the message was ten days old. We'd set up voice mail on our new phone, but, unbeknownst to us, some of our missed calls were recorded by the phone itself rather than voice mail. Mary discovered the message at one in the morning. I was long asleep since I had to get up at 6:45 in the morning. She woke me up however, and I felt a surge of hope and adrenaline, which, unfortunately, kept me up most of the short remainder of the night. Murghy was alive, but the idea that we might have missed our opportunity to find him was too painful to contemplate. The sighting placed Murghy about 15 miles north of Pelham. I was there by 7:30 on Sept 11, the next morning, calling for Murghy, handing out posters, and badgering everyone I could. Settling down I decided to think like a cat, and that led me to the back of the sprawling main building where the garbage was stored. I did a walk through and it looked promising, but I had handed out all my posters by this point, and I was also very late for work. Dejectedly, I left to get my car. On the floor of the car, I saw one last poster and so I drove back to the garbage area to leave it with one of the workers. I found someone who looked like he worked there and showed him the poster. He glanced at it, and then did a double-take. He said that a cat that looked like this had been hanging around for a week. He'd seen it as recently as the previous Friday. Other workmen came by and confirmed the sighting, pointing to a fenced-off area where the cat had been seen. Before leaving, I decided to walk over to the spot and try calling one more time. I saw movement on the other side of the fence. Then I saw a tail, and then I saw Murghy's beautiful face. I said, "Murghy," and he, being a cat, said, "meow." Then he said, "meow' about 25 times. There ensued a farcical series of maneuvers as I got inside the fence even as Murghy got out, but only a minute later we were re-united. He was skin and bone (putting paid to my reassuring delusion that he was off on a cat's version of a Tahitian vacation), but still very much Murghy. As I drove home, I called Mary and said, "somebody wants to talk to you." In the days since we've tried to figure out how he got there. I know he's tried to tell me, but despite years of effort I still don't understand cat beyond a few rudimentary phrases. My best guess is that he somehow got to the Hutchison River Parkway and wandered north in the sward of wood and grass that borders the road. As for those messages, who knows? It would have been helpful had they have conveyed more information, but the sender was a cat (if in fact they were sent), and not Jack Bauer, and he was lost to boot. The key thing though is that they convinced us to retain hope, and perhaps our messages kept Murghy's hopes up as well. What matters most is that against all odds he's back, and our world was set right on again on, of all days, Sept. 11.
Short Take
Relaxing COVID-19 Restrictions will Kill, not Save, the Economy
[This is a more developed version of the previous Short Take}
Those who want to relax mandates on self-isolation and social distancing to save the economy have got it exactly backwards. Reopen society too soon, and we risk destroying the economy as well as public order and our shaky democratic institutions. The reason comes down to two words: supply lines.
Supply lines for necessities such as food are already under stress. Those going to grocery stories encounter random instances of empty shelves and vegetable bins. Smithfield Farms shut down a South Dakota plant that supplies roughly 4% of the pork in the nation after over 500 of its workers tested positive for the coronavirus. Other giant meat processors such as Tyson have also shut down plants for similar reasons. Farmers in the West are having trouble finding workers to harvest the crops now reaching maturity in the fields. And even if they manage to get the crops picked, farmers are out of luck if the truckers fail to show up, or the flow of packaging for their products get interrupted.
Right now, these disruptions are episodic, but that should be concerning because we haven't even seen the end of the first wave. What we have seen is that vital front-line workers such as nurses, doctors, EMT's, and other first responders have had trouble finding protective equipment and maintaining morale. Some have staged walkouts over the dangerous conditions, and these are workers with a sense of mission.
By contrast, for most of the hourly-paid workers who keep supplies made, distributed, and sold, their work is a job that pays the bills. It would be appropriate if society recognized that they played a vital role, but mostly these workers encounter demanding bosses, monotony, and surly customers. If sick, they are not going to work – nor would we want them too. And they are not likely to risk their lives if going to work exposes them to contagion.
Disruption of one link, e.g. the trucker that delivers food the last mile, could halt a supply chain. COVID-19 is a threat to every link. Should a second wave hit before there is a readily available, cheap and effective treatment, it's a very high probability that many supply lines will be disrupted and filling the gaps could easily overwhelm the nation's businesses.
Even today, on the evening news, we see images of vast caravans of cars lined up to get supplies from food banks. Imagine two weeks of empty shelves in the stores that feed our cities. How likely is it that civil order could be maintained in that situation? Will people suffer in silence if they realize that they can't buy food for their kids because our leaders reopened the economy before a treatment was available because they wanted to prop up the stock market (which is how it will be portrayed)? If we want to look analogues for what life is like once supply chains break down, they're readily available today in cities like Mogadishu, Kinshasa, and Port au Prince.
Thus far, the Trump administration's response to the pandemic seems to be a mélange of Boss Tweed, Don Corleone and Inspector Clouseau. For the next act, the administration has a choice: Churchill, who bolstered British morale during the London Blitz, or Pol Pot, who sacrificed millions of his countrymen for a bad idea. Let's hope those around Trump can convince him that the cure for the disease is the cure for the economy.

read more