Latest Musing

Diary of a Tree Stump
Something lighter:
"I would vote for a tree stump if it could beat Donald Trump"
[Timothy Egan, in his Nov. 8, 201...

continue
Latest Book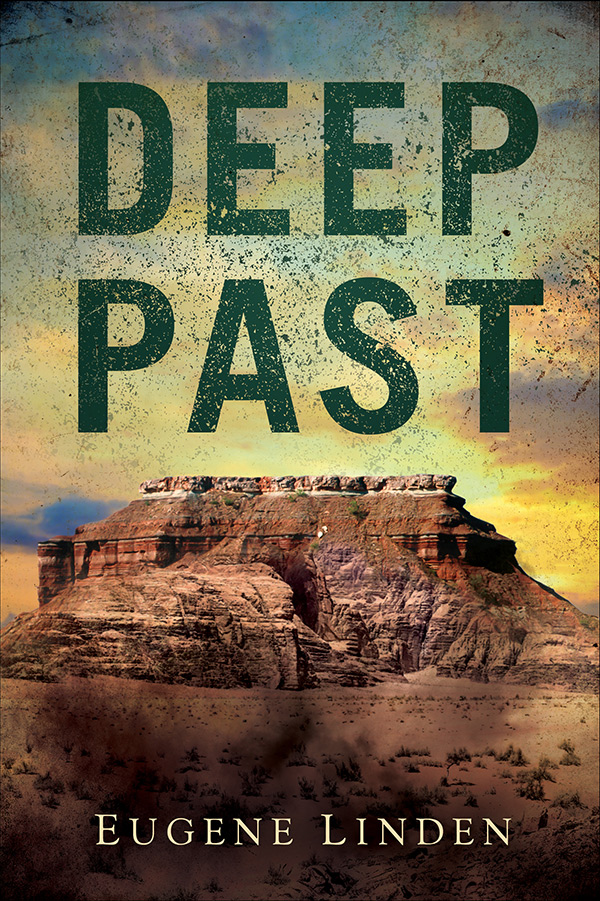 Deep Past
Buy from Amazon

more info
Articles by Category
endangered animals
rapid climate change
global deforestation
fragging

Books




Winds of Change
Buy from Amazon

more info
Afterword to the softbound edition.




The Octopus and the Orangutan
more info




The Future In Plain Sight
more info


The Parrot's Lament
more info


Silent Partners
more info


Affluence and Discontent
more info


The Alms Race
more info


Apes, Men, & Language
more info
HE WAS LOST AND NOW HE IS FOUND.
Friday September 15, 2006
HE WAS LOST AND NOW HE IS FOUND. On Saturday, August 12, we were having a family barbecue in Pelham New York, having just moved up from Washington, DC a week earlier. It was just my wife and our two kids and her brother, his wife and their twins. The evening was thoroughly pleasant. We'd let Murghatroyd, our 11 year-old Bengal, out of the house for the first time that day, and he was overjoyed. Murghy was an outdoor cat in the extreme, and he'd made our life a living hell while he was cooped up during the week as we tried to habituate him to the new surroundings. Now outside, he rolled luxuriantly in the grass and repeatedly showed up during dinner to hop on the lap of various guests, and play the role of host. Midway through the evening we heard a scuffle off in the bushes, and then the smell of skunk spray wafted our way. Murghy didn't return to the party, but we didn't think much of it. He was our smartest cat by far, and we trusted him (Lucy, another Bengal was definitely more suburban in her inclinations, and, after a Oliver Twist kittenhood, our two other adopted strays were never going to venture far from the food bowl). But then Murghy didn't show up the next day, the next, nor the next, and with each passing day, a pall deepened over the remainder of the summer and an ache took hold somewhere deep. I've always considered myself level headed about animals. Nothing is more elegant and interesting than the genius of evolution, and I have spent many years investigating evidence that the evolutionary forces that produced consciousness and other higher mental abilities in humans also produced those abilities in other species. But, I've always shied from some of the more radical ideas about alternative intelligences in other animals, e.g. the notion that cats communicate with us by planting images directly in our subconscious - "mind bombs" as one woman wrote when explaining how her cat had alerted her that the house was on fire. That is, I tended to discount these ideas until my wife and I began receiving missives very much like what the woman had described. While I've been accused of being apocalyptic in some of my writing, on a daily basis I tend to be optimistic. Mary, by contrast, likes to prepare herself for bad news. Our rented house in Pelham was not far off a golf course. I tried to take comfort when one of my neighbors described the course as "cat heaven," with vast troves of small animals for a cat to feast on. I envisioned Murghy's walkabout as something like a Tahitian vacation. Besides, Murghy had a collar with our phone number on it. There was always a chance that a Good Samaritan would give us a call. Mary spoke to another neighbor, however, who told of a surge of pet disappearances in the neighborhood, and mentioned rumors of a pet-killing coyote in the vicinity. We got a call about the body of a cat that someone had found near the golf course, and Mary reported that the much worked-over corpse bore some resemblance to Murghy. There was a resemblance, but I convinced myself that the color was a bit too light. We put up posters and followed up leads when people called in. Every time our hopes were dashed. In some ways news was worse than no news. One ostensibly sighting placed him near the deadly confluence of two parkways. Reconnoitering following one phone call revealed that a very cute kitten was making a go of it as a stray (her welfare was being monitored by solicitous neighbors), and we were never able to run down the sightings of a larger cat that fit Murghy's description. After about ten days, the dreams began. I had them, Mary had them, even the kids had them. They were intense and good dreams: Murghy coming home, Murghy curled up in my lap. Ever the optimist, I thought of them as postcards - Murghy was telling us that he was alright; the Tahitian vacation was going well. I tried to send return messages as well, helpfully beaming out an image the landmarks in our neighborhood. Overcoming her instinct to protect herself against bad news, Mary put a positive spin on the dreams as well: Murghy was telling us that he was alive. Still, at eleven Murghy was no spring chicken, and beyond the golf course lay a rough world if you were a lost cat. Moreover, there was always the chance he'd set off with some hare-brained plan to get back to DC. I was outwardly optimistic, but deep down I started preparing myself for life without Murghy. August turned into September, and although there were pleasant moments, at some level I was holding my breath as my subconscious tried to figure out how to resolve my feelings about Murghy, who played a far larger role in my thoughts than you might expect of an animal that weighed 10 pounds and slept most of the day. Mary and I replayed every heartbreaking missed opportunity. None was more anguished than the discovery on Sept. 10 of a message from just the Good Samaritan we had been hoping for. The woman caller said that she had encountered a very friendly cat on the grounds of a hospital and that he let her see his collar and read the phone number. The problem was that the message was ten days old. We'd set up voice mail on our new phone, but, unbeknownst to us, some of our missed calls were recorded by the phone itself rather than voice mail. Mary discovered the message at one in the morning. I was long asleep since I had to get up at 6:45 in the morning. She woke me up however, and I felt a surge of hope and adrenaline, which, unfortunately, kept me up most of the short remainder of the night. Murghy was alive, but the idea that we might have missed our opportunity to find him was too painful to contemplate. The sighting placed Murghy about 15 miles north of Pelham. I was there by 7:30 on Sept 11, the next morning, calling for Murghy, handing out posters, and badgering everyone I could. Settling down I decided to think like a cat, and that led me to the back of the sprawling main building where the garbage was stored. I did a walk through and it looked promising, but I had handed out all my posters by this point, and I was also very late for work. Dejectedly, I left to get my car. On the floor of the car, I saw one last poster and so I drove back to the garbage area to leave it with one of the workers. I found someone who looked like he worked there and showed him the poster. He glanced at it, and then did a double-take. He said that a cat that looked like this had been hanging around for a week. He'd seen it as recently as the previous Friday. Other workmen came by and confirmed the sighting, pointing to a fenced-off area where the cat had been seen. Before leaving, I decided to walk over to the spot and try calling one more time. I saw movement on the other side of the fence. Then I saw a tail, and then I saw Murghy's beautiful face. I said, "Murghy," and he, being a cat, said, "meow." Then he said, "meow' about 25 times. There ensued a farcical series of maneuvers as I got inside the fence even as Murghy got out, but only a minute later we were re-united. He was skin and bone (putting paid to my reassuring delusion that he was off on a cat's version of a Tahitian vacation), but still very much Murghy. As I drove home, I called Mary and said, "somebody wants to talk to you." In the days since we've tried to figure out how he got there. I know he's tried to tell me, but despite years of effort I still don't understand cat beyond a few rudimentary phrases. My best guess is that he somehow got to the Hutchison River Parkway and wandered north in the sward of wood and grass that borders the road. As for those messages, who knows? It would have been helpful had they have conveyed more information, but the sender was a cat (if in fact they were sent), and not Jack Bauer, and he was lost to boot. The key thing though is that they convinced us to retain hope, and perhaps our messages kept Murghy's hopes up as well. What matters most is that against all odds he's back, and our world was set right on again on, of all days, Sept. 11.
Short Take
THOUGHTS ON WHY THE EARLY IPCC ASSESSMENTS UNDERSTATED THE CLIMATE THREAT
An oped involves extreme compression, and so I thought I'd expand on why I think the initial IPCC reports so underestimated the threat. Make no mistake, the consensus in the summaries for policy makers in the first two assessments did underestimate the threat. The consensus was that permafrost would be stable for the next 100 years and also that the ice sheets would remain stable (there was even a strong sentiment at that time that the East Antarctic sheet would gain mass). Moreover, in 1990, the concept of rapid climate change was at the periphery of mainstream scientific opinion. All these things turned out to be wrong
Of course, there were scientists at that time who raised alarms about the possibility of rapid climate change, collapse of the ice sheets, and nightmare scenarios of melting permafrost, but, fairly or not, the IPCC summary for policy makers was and is taken to represent the consensus of scientific thinking.
In my opinion such documents will always take a more conservative (less dramatic) position than what scientists feel is justified. For one thing the IPCC included policy makers, most of whom were more incentivized to downplay the threats. For another, many of the national governments that were the customers for these assessments barely tolerated the exercise and gave strong signals that they didn't want to see anything that called for dramatic action, and this being the UN, there was a strong push to present a document that as many governments as possible would accept.
And then there is the nature of science and the state of climate science at that point. There is an inherent structural lag built in to the nature of science. For instance, the 1980's were marked by the rapid development of proxies to see past climate changes with ever more precision. By the mid-late 80's the proxies and siting had been refined sufficiently that the GISP and GRIP projects could confidently get ice cores from Greenland that they felt represented a true climate record and by then they also had the proxies with the resolution to see the rapid changes that had taken place in the past. Given the nature of data collection, interpretation, peer-review and publishing, it wasn't until 1993 that these results were published.
It took nearly another decade for this new, alarming, paradigm about how rapidly global climate can change to percolate through the scientific community, and, even today, much of the public is unaware that climate can change on a dime.
As for the ice sheets, when I was on the West Antarctic Ice Sheet in 1996, there was talk about the acceleratio of ice streams feeding the Thwaites and Pine Island glaciers, but the notion that there might be a significant increase in runoff from the ice sheet over the next hundred years was still very much a fringe idea.
With permafrost, the problem was a sparsity of data in the 80s and early 90s and it is understandable that scientists didn't want to venture beyond the data.
The problem for society as a whole was that the muted consensus on the scale of the threat diminished any sense of urgency about dealing with the problem. Perhaps the best example of this was the early work of William Nordhaus. Working from the IPCC best estimates in the early 1990s Nordhaus published one paper in which he predicted the hit to the US GDP from climate change in 2100 would be about ½ of 1%. Nobody is going to jump out of their chair and demand action if the hit to the economy was going to be 0.5% of GPD a hundred years laterLibertarians such as William Niskanen seized on this and testified before Congress that there was plenty of time to deal with global warming if it was a threat at all.
And then there was the disinformation campaign of industry, particularly fossil fuel lobbyists, as well as pressure from unions (the UAW in particular) and the financial community. These highly motivated, deep-pocketed interests seized on scientific caution to suggest deep divisions among scientists and that the threat was overplayed. Little wonder then that the public failed to appreciate that this was a looming crisis that demanded immediate, concerted action.
read more