Lastest Musing
THE OZONE CHRONICLES; HISTORY REPEATING AS TRAGEDY
Joe Farnam, the dogged, data-driven discoverer of the ozone hole, died in 2013, three years before publication of findings showing that the ozone layer, which protects life on earth from UV radiation, has finally started to recover. This nascent recovery comes 42 years after atmospheric chemists fir...

continue
Featured Book




The Ragged Edge of the World
Buy from Amazon

more info
Articles by Category
endangered animals
rapid climate change
global deforestation
fragging

Books




Winds of Change
Buy from Amazon

more info
Afterword to the softbound edition.




The Octopus and the Orangutan
more info




The Future In Plain Sight
more info


The Parrot's Lament
more info


Silent Partners
more info


Affluence and Discontent
more info


The Alms Race
more info


Apes, Men, & Language
more info
Time Warp on Climate Change
Thursday August 28, 2014
In yesterday's New York Times, there were two articles on climate change. The first was a front page piece about how President Obama will try to end-run Congressional paralysis on dealing with climate change by seeking to update the existing Kyoto treaty in ways that commit nation's to targets to reduce green house gas emissions. Then there was an article by Justin Gillis discussing a new UN report that outlines dire predictions for climate change, which is being circulated a month before the organization meets to forge an agreement on climate change. This triggered a distant memory: seventeen years ago, the UN was also about to convene to try to agree to a climate treaty, and seventeen years ago I published an op-ed in the New York Times that offered a simple idea to break the impasse. Think about that: seventeen years ago, people were frustrated by the global community's inability to deal witht the threat. And what has happened since? The rate at which greenhouse gasses are accumulating in the atmosphere has nearly doubled. Oh, and Obama's outline for an agreement repicates some elements of the approach I proposed back then.
Here's the op-ed: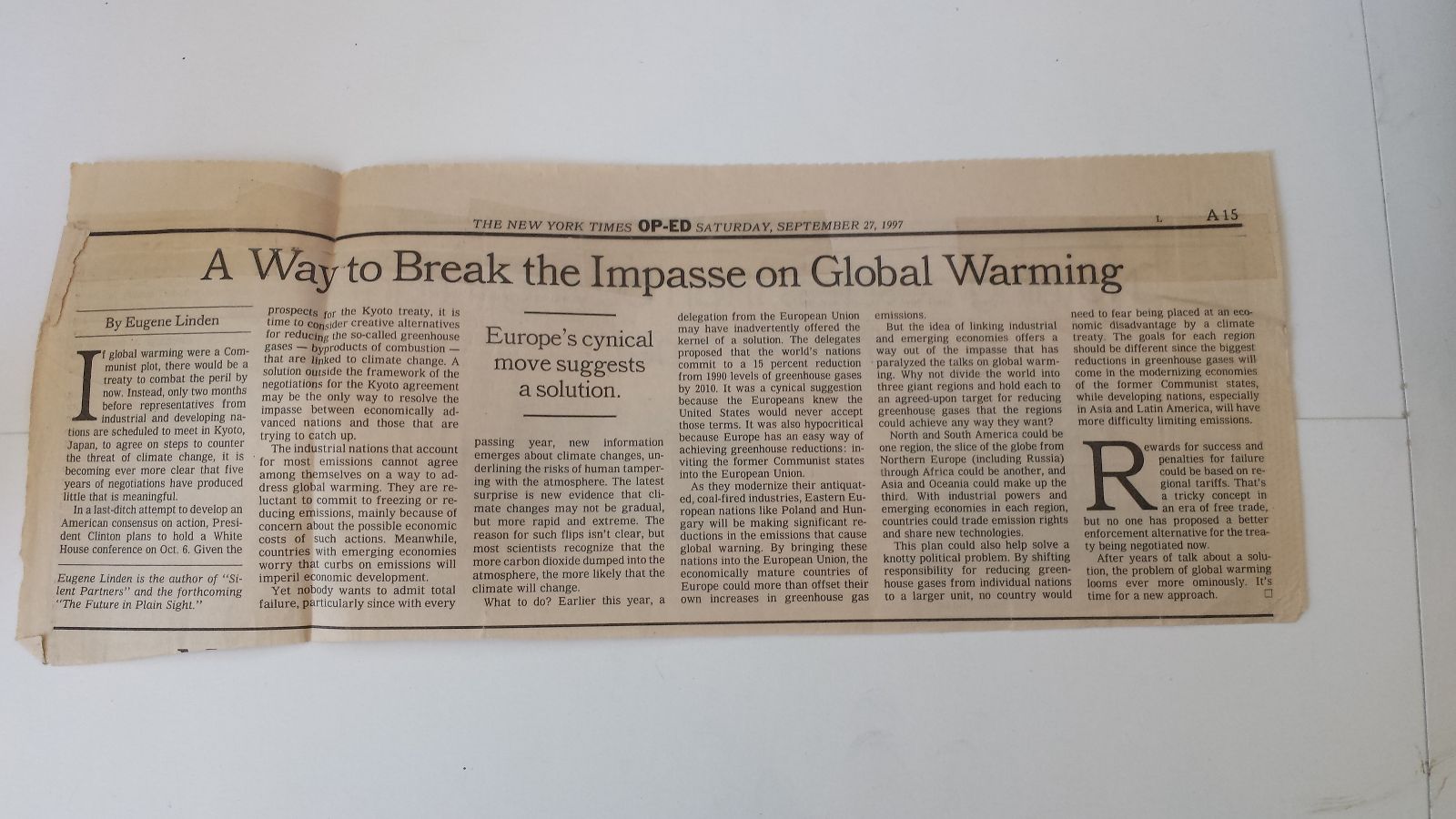 Here's the text of that op-ed. It's astonishing how little the basic debate has changed even as the threat has become so much more dire and imminent:
If global warming were a Communist plot, there would be a treaty to combat the peril by now. Instead, only two months before representatives from industrial and developing nations are scheduled to meet in Kyoto, Japan, to agree on steps to counter the threat of climate change, it is becoming ever more clear that five years of negotiations have produced little that is meaningful.
In a last-ditch attempt to develop an American consensus on action, President Clinton plans to hold a White House conference on Oct. 6. Given the prospects of the Kyoto treaty, it is time to consider creative alternatives for reducing the so-called greenhouse gases – byproducts of combustion – that are linked to climate change. A solution outside the framework of the negotiations for the Kyoto agreement may be the only way to resolve the impasse between economically advanced nations and those that are trying to catch up.
The industrial nations that account for most emissions cannot agree among themselves on a way to address global warming. They are reluctant to commit to freezing or reducing emissions, mainly because of concern about the possible economic costs of such actions. Meanwhile, countries with emerging economies worry that curbs on emissions will imperil economic development.
Yet nobody wants to admit total failure, particularly since with every passing year, new information emerges about climate changes, underlining the risks of human tampering with the atmosphere. The latest surprise is new evidence that climate changes may not be gradual, but more rapid and extreme. The reason for such flips isn't clear, but most scientists recognize that the more carbon dioxide dumped into the atmosphere, the more likely that the climate will change.
What to do? Earlier this year, a delegation from the European Union may have inadvertently offered the kernel of a solution. The delegates proposed that the world's nations commit to a 15% reduction from 1990 levels of greenhouse gases by 2010. It was a cynical suggestion because the Europeans knew the United States would never accept those terms. It was also hypocritical because Europe has an easy way of achieving greenhouse reductions: inviting the former Communist states into the European Union.
As they modernize their antiquated, coal-fired industries, Eastern European nations like Poland and Hungary will be making significant reductions in the emissions that cause global warming. By bringing these nations into the European Union, the economically mature countries of Europe could more than offset their own increases in greenhouse gas emissions.
But the idea of linking industrial and emerging economies offers a way out of the impasse that has paralyzed the talks on global warming. Why not divide the world into three giant regions and hold each to an agreed-upon target for reducing greenhouse gases that the regions could achieve any way they want?
North and South America could be one region, the slice of the globe from Northern Europe (including Russia) through Africa could be another, and Asia and Oceana could make up the third. With industrial powers and emerging economies in each region, countries could trade emission rights and share new technologies.
This plan could also help solve a knotty political problem. By shifting responsibility for reducing greenhouse gases from individual nations to a larger unit, no country would need to fear being placed at an economic disadvantage by a climate treaty. The goals for each region should be different since the biggest reductions in greenhouse gases will come in the modernizing economies of the former Communist states, while developing nations, especially in Asia and Latin America, will have more difficulty limiting emissions.
Rewards for success and penalties for failure could be based on regional tariffs. That's a tricky concept in an era of free trade, but no one has proposed a better enforcement alternative for the treaty being negotiated now.After years of talk about a solution, the problem of global warming looms every more ominously. It's time for a new approach.
That last sentence was true seventeen years ago. That it's still true today is pathetic -- and tragic.
Short Take
[Mild spoiler alert: the book is a fictionalized exploration of a girl who falls under the spell of a Manson-like cult. We all know how that story unfolded. In this Short Take I'll be offering my reactions to the protagonist, Evie Boyd.]
The Girls offers as bleak a view of the amorality of American youth as I have ever encountered. In a review of my first book, I was called "Intolerably apocalyptic," but I can't hold a candle to Ms. Cline. The book is a novelistic attempt to try and understand how some of the privileged young women of the late 1960s could commit unspeakable acts while under the sway of a Manson-like psychopath.
Thus we meet Evie Boyd, a fourteen year-old growing up amid relative affluence in Petaluma California. She's directionless, with no apparent passions, self-conscious about her looks, emotionally needy, alienated from her parents (who get divorced), but possessed of a tough inner core and a rebellious streak. She's enthralled when she encounters Suzanne, a wild, charismatic 19 year-old who seems to be a composite of Patricia Krenwinkel and Leslie Van Houton, and Evie is honored when Suzanne pays her some attention. Events bring her to the cult's squalid ranch, and for some weeks, Evie maintains a dual life, throwing herself into the life of the cult, while returning home enough not to galvanize her mother, who is pre-occupied with a rebound relationship with Frank, an entrepreneur who comes across as a hustler with a heart of gold.
Evie is so smitten by Suzanne that she doesn't notice as the cult spirals down from talk of love and freedom to episodes of paranoia, back-biting and revenge. Along the way, Evie has her first sexual adventures, and enters sufficiently into the spirit of the cult that she brings them to the house of the family next door (which they descrate), even though she has known the family all her life and has no score to settle. Later, Evie talks her way into joining Suzanne as she and others set off to inflict mayhem on a Dennis Wilson-like figure, but Suzanne kicks her out of the car before they begin a horrific rampage.
Did Suzanne do this to protect Evie from what she knew was about to happen, or because she felt that Evie wasn't a murderer and would become a liability? That's left unanswered, but the bloodbath that Evie missed is so depraved – including the slashing apart of a toddler – that no human with a soul could find that earlier gesture redemptive … except for our Evie, who still feels the tug of Suzanne's power, even after she learns every gory detail of Suzanne's actions.
It's several months between the time of the murders and when the cult is finally caught. During this time, Evie keeps her mouth shut about what happens and meekly allows herself to be shipped off to boarding school to resume her comfortable existence, though as a wreck, not a spirited teenager.
That's when I decided Evie was a worthless human being. Sure, she was terrified that the cult would come after her, and there's some honor on not squealing, but Evie had to know that the cult would likely kill again, and that made her an enabler of whatever they did subsequently.
The book interweaves the present and the past and so we learn how these events haunted Evie's life. But there's no redemptive moment, no act where she summons the courage to do the right thing, or rises above her own self-absorption. Even in the present, when the psychopath-in-the-making son of a friend and his underage, impressionable girlfriend crash at her digs, she can only summon a half-hearted (and failed) attempt to save the girl from following the path that so grievously sidetracked her own life.
All the men in the book are either pathetic or pigs of various shapes and forms – except for a premed student named Tom, who sees the cult for what it is, but who Evie rejects as a dork. Towards the end of the book, Evie ticks off a long list of subsequent experiences with awful men that could summon in her the hatred to commit horrendous crimes, seeming to imply that with the right mix of events, she too might have become a Suzanne, and, by implication, so could enormous numbers of other young women.
My first reaction was to call "Bullshit!" Were all young women potential Suzannes, we would have seen endless repeats of the Manson horrors in the nearly 50 years since the events. Instead, those murders still stand as a touchstone of horror because nothing since has eclipsed their mindless violence.
The Manson cult was at the far far end of the normal curve during truly abnormal times. In just the two years leading up to the murders, we had the huge escalation of a senseless war, the explosion of the anti-war movement and counter-culture, a breakdown of generational trust, my generation's first experiences with powerful, mind-altering drugs, and a sexual revolution. In a country of more than 200 million people, that roiling stew of disruptive forces bubbled to the surface about 20 broken souls, deranged by drugs and in the thrall of a false prophet.
On reflection, however, maybe Ms. Clein was making a different point. All we have to think of are the teenage executioners of Pol Pot's Cambodia or the child soldiers of Africa to recognize that the capacity for evil lies latent in the young. And, while in fiction we want our protagonists to find redemption or transcend their flaws perhaps Evie's failure to rise to the occasion was making the point that a civilization that keeps our murderous impulses in check is not innate, but something external that has to be actively inculcated and supported. That's something to keep in mind amid the current insanity of gun violence, and as more dark clouds gather on the horizon.
read more