Time Warp on Climate Change
Thursday August 28, 2014
In yesterday's New York Times, there were two articles on climate change. The first was a front page piece about how President Obama will try to end-run Congressional paralysis on dealing with climate change by seeking to update the existing Kyoto treaty in ways that commit nation's to targets to reduce green house gas emissions. Then there was an article by Justin Gillis discussing a new UN report that outlines dire predictions for climate change, which is being circulated a month before the organization meets to forge an agreement on climate change. This triggered a distant memory: seventeen years ago, the UN was also about to convene to try to agree to a climate treaty, and seventeen years ago I published an op-ed in the New York Times that offered a simple idea to break the impasse. Think about that: seventeen years ago, people were frustrated by the global community's inability to deal witht the threat. And what has happened since? The rate at which greenhouse gasses are accumulating in the atmosphere has nearly doubled. Oh, and Obama's outline for an agreement repicates some elements of the approach I proposed back then.
Here's the op-ed: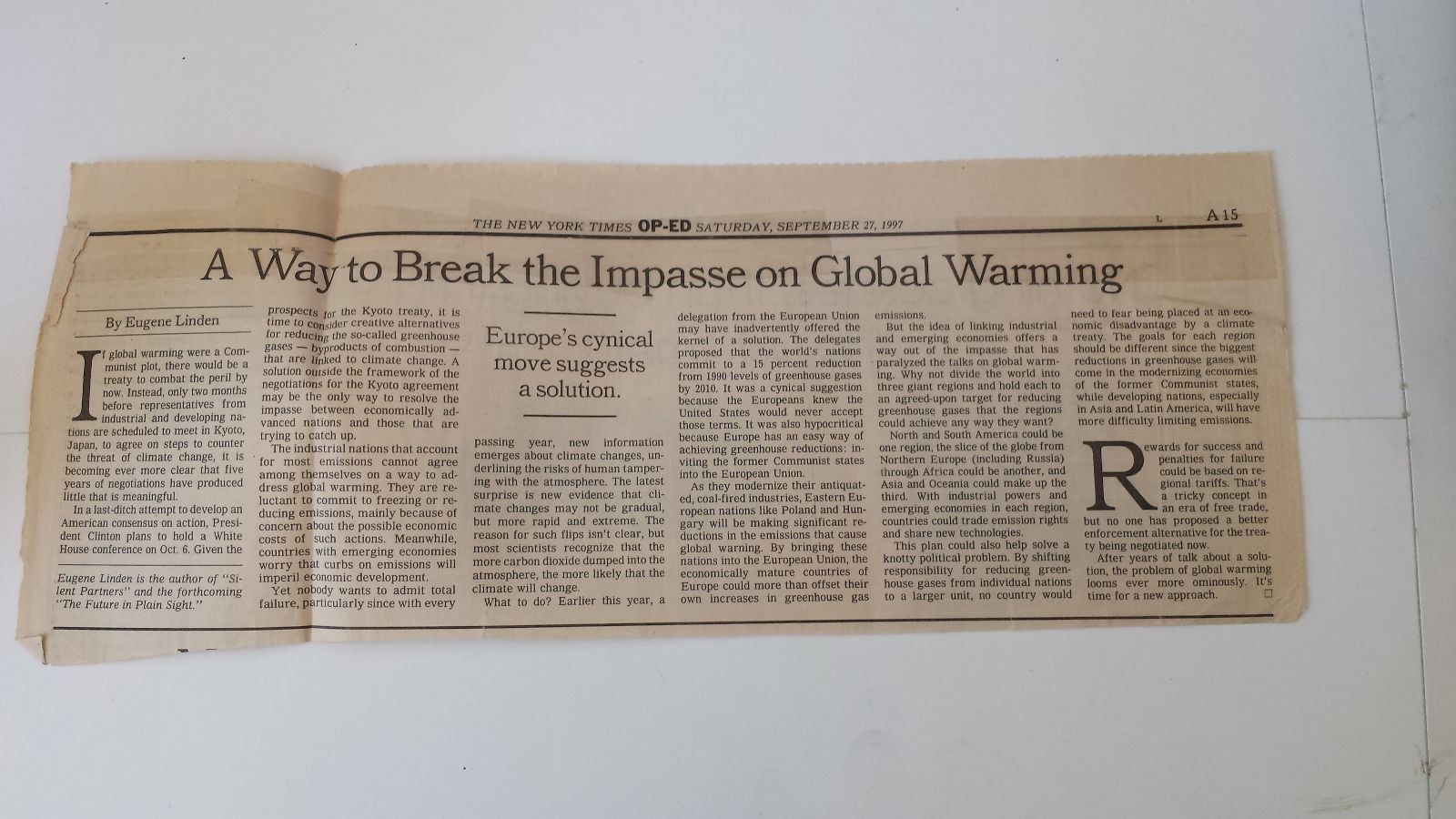 Here's the text of that op-ed. It's astonishing how little the basic debate has changed even as the threat has become so much more dire and imminent:
If global warming were a Communist plot, there would be a treaty to combat the peril by now. Instead, only two months before representatives from industrial and developing nations are scheduled to meet in Kyoto, Japan, to agree on steps to counter the threat of climate change, it is becoming ever more clear that five years of negotiations have produced little that is meaningful.
In a last-ditch attempt to develop an American consensus on action, President Clinton plans to hold a White House conference on Oct. 6. Given the prospects of the Kyoto treaty, it is time to consider creative alternatives for reducing the so-called greenhouse gases – byproducts of combustion – that are linked to climate change. A solution outside the framework of the negotiations for the Kyoto agreement may be the only way to resolve the impasse between economically advanced nations and those that are trying to catch up.
The industrial nations that account for most emissions cannot agree among themselves on a way to address global warming. They are reluctant to commit to freezing or reducing emissions, mainly because of concern about the possible economic costs of such actions. Meanwhile, countries with emerging economies worry that curbs on emissions will imperil economic development.
Yet nobody wants to admit total failure, particularly since with every passing year, new information emerges about climate changes, underlining the risks of human tampering with the atmosphere. The latest surprise is new evidence that climate changes may not be gradual, but more rapid and extreme. The reason for such flips isn't clear, but most scientists recognize that the more carbon dioxide dumped into the atmosphere, the more likely that the climate will change.
What to do? Earlier this year, a delegation from the European Union may have inadvertently offered the kernel of a solution. The delegates proposed that the world's nations commit to a 15% reduction from 1990 levels of greenhouse gases by 2010. It was a cynical suggestion because the Europeans knew the United States would never accept those terms. It was also hypocritical because Europe has an easy way of achieving greenhouse reductions: inviting the former Communist states into the European Union.
As they modernize their antiquated, coal-fired industries, Eastern European nations like Poland and Hungary will be making significant reductions in the emissions that cause global warming. By bringing these nations into the European Union, the economically mature countries of Europe could more than offset their own increases in greenhouse gas emissions.
But the idea of linking industrial and emerging economies offers a way out of the impasse that has paralyzed the talks on global warming. Why not divide the world into three giant regions and hold each to an agreed-upon target for reducing greenhouse gases that the regions could achieve any way they want?
North and South America could be one region, the slice of the globe from Northern Europe (including Russia) through Africa could be another, and Asia and Oceana could make up the third. With industrial powers and emerging economies in each region, countries could trade emission rights and share new technologies.
This plan could also help solve a knotty political problem. By shifting responsibility for reducing greenhouse gases from individual nations to a larger unit, no country would need to fear being placed at an economic disadvantage by a climate treaty. The goals for each region should be different since the biggest reductions in greenhouse gases will come in the modernizing economies of the former Communist states, while developing nations, especially in Asia and Latin America, will have more difficulty limiting emissions.
Rewards for success and penalties for failure could be based on regional tariffs. That's a tricky concept in an era of free trade, but no one has proposed a better enforcement alternative for the treaty being negotiated now.After years of talk about a solution, the problem of global warming looms every more ominously. It's time for a new approach.
That last sentence was true seventeen years ago. That it's still true today is pathetic -- and tragic.